Get In Front Of Potential Clients With
Ads For Financial Advisors
Digital advertising through ads for financial advisors is a great way to get immediate traffic to your website. Facebook ads, Instagram ads, and Google Ads (Pay Per Click) are great channels to grow your practice!
Learn more about each of these channels that could land you more client appointments.
Facebook Ads For Financial Advisors
Facebook has firmly established itself as a potent advertising platform, particularly well-suited to certain product categories. Its effectiveness received an additional boost when Facebook acquired Instagram, as the two platforms now seamlessly share data and audiences. This synergy enables a single ad campaign to effortlessly span both platforms, significantly amplifying its impact.
Furthermore, Facebook stands out as one of the more cost-effective digital advertising platforms available. Its sophisticated advertising algorithm autonomously determines the optimal ad placement, aiming for the lowest cost per click and maximizing your campaign's reach.
One of Facebook's compelling features is its audience-building capabilities. You can tailor your audience to pinpoint users who are most inclined to engage with your ads. Properly targeting your audience can substantially enhance your return on ad spend (ROAS) through retargeting campaigns. These campaigns target users who have already demonstrated interest in your brand or products, resembling "warm" leads that have been previously exposed to your advertising efforts.
Typically, you'll create a dedicated landing page tailored to your specific ad campaign. By driving traffic through these ads to the landing page, you can conduct A/B testing and optimize both the ad campaign and landing page to achieve the highest possible return on ad spend (ROAS). This strategic approach ensures that your advertising investments yield maximum results.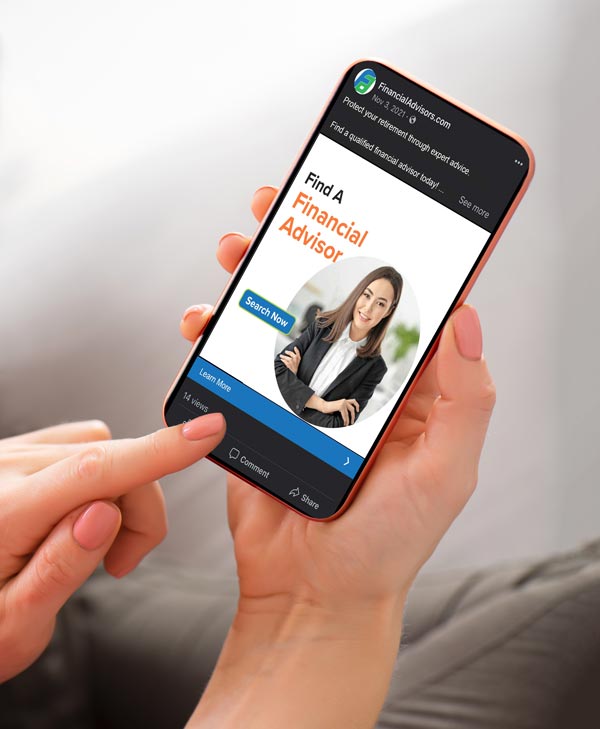 Instagram Ads For Financial Advisors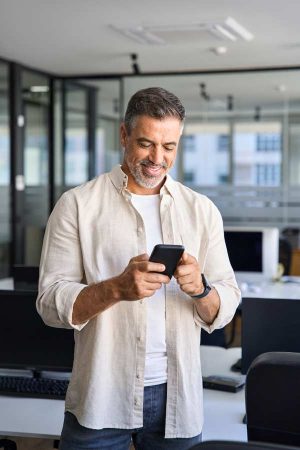 Instagram is all about stunning visuals and compelling storytelling. Our team of creative experts crafts Instagram ads that not only grab attention but also engage and resonate with your target audience. This includes SEO research to understand what users are searching for. Whether it's eye-catching images, captivating videos, or carousel ads that tell a story, we make sure your brand stands out.
We believe in the power of data. We'll add analytics to your website to monitor the performance of your Instagram ads. We analyze what's working and what's not, making adjustments to ensure your campaigns achieve the best possible results.
Google Ads For Financial Advisors

Harness the Power of Google: Google Ads (adwords) is the premier platform to reach your target audience where they actively search for your services. Ads for financial advisors enable your brand to appear prominently at the top of Google search results, guaranteeing maximum visibility.
Our data-driven approach optimizes every aspect of your campaigns. We analyze audience behavior, keywords, and ad performance to fine-tune your strategy, resulting in a higher return on investment (ROI).
Our primary goal is to drive conversions. We create compelling ad copy and landing pages to engage visitors and turn them into loyal customers.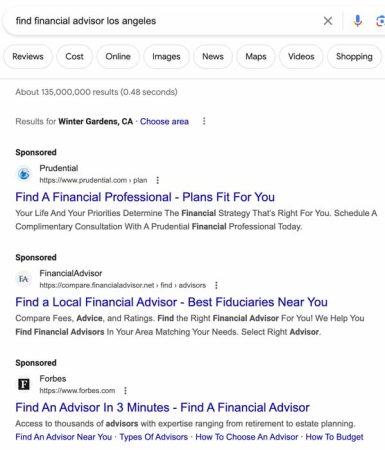 Ready to take your financial advisory practice to the next level? Let's talk! Contact us today to schedule a consultation and discover how FinancialAdvisors.com can help you achieve your business goals.